This project comes from a good friend! Tiffany Heard Campbell
Can you cut mirrored acrylic with a laser cutter? Oh yes! Check this out! Tiffany showing off her skills with mirrored acrylic! LOVE THIS!
2. Laser Cut Elf Ornament
Looking for a Christmas SVG for your next laser cutting project? This design is perfect for craft shows and is sure to be a best seller!
Love it from our newest designer designertucasdesigns!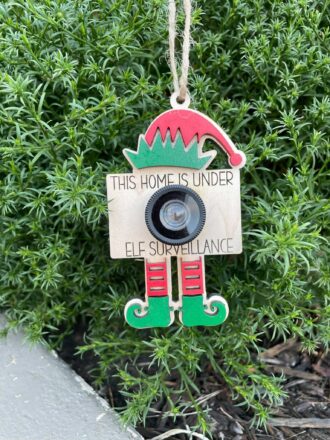 3. Laser Cut Leaf Design for Fall Design Inspiration
I love detailed but simple projects. These laser cut leaf designs hit the nail on the head. Taryn took wedding invitation designs from a few years ago and turned them into this Laser Cut Fall Project. Beautiful! We need more of this!
4. Laser Cut Layered Guitar
I stuided classical guitar performance at Virgina Commonwealth University and this layered wood project reminds me of those days.
The detail in this project is amazing. I'm a huge fan of stained wood or natural wood. Arman did a great job on this project!
5. Christmas Ornament - Bonus Kitten!
First, this product photo has a cat in it. How can you go wrong with this laser cut ornament when it has an adorable kitten? Love this simple ornament design from "So Very Graphic". Easy to cut and a great seller for craft shows! 
6. Even Santa needs insurance...lol
This project gave me a giggle. Lovely design! Nice job! Who thinks they should open a shop for our community? ***Raises hand*** 
Reddit user bucklee01 created this lovely laser cut lightbox for his daughter. Made on a k40 laser cutter except the V frame he used with his woodworking tools. Materials include clear acrylic and color paper. Well done bucklee01!
Nice simple project! I know we all love wood projects but it is a nice change of pace to see something different. This cute Cacti warms my heart! Nice job from reddit user htaedtaeh
9. Layered Laser cut Mom Sign
My wife is a badass. She's an awesome Mom and works really hard. This laser cut project is a great idea for a gift for mother's day or any day of the year! Nice work from reddit user imolha!
10. Laser Engraved Tree on Stump | Laser Cut Art
Now this is my style! Beatful natural wood and a simple and lovely design. Awesome work from Instagram user @lazer.kesim.urla