Why you will love this FREE plugin from Astute Graphics
Your time is limited and productivity is critical to growing your business. This plugin has been a time saver for me and I know you are going to love it! You can create symmetrical designs, snowflakes, and mandalas quickly and easily with Astute Graphic's MirrorMe plugin.
*Quick note, this post is NOT sponsored by Astute Graphics. I just really love the plugins they offer*
Astute Graphics is a professional plugin developer for Adobe Illustrator that started back in 2006. The founder Nicholas van der Walle and his team have made 20 plugins used by major corporations around the world and 1,000's of designers. Learn more about Astute Graphics here.
MirrorMe is a FREE plugin for Adobe Illustrator. It works both on Mac and PC. Here's what it can do.
Apply symmetry to a layer or object
Live Mirroring as you create your artwork
Add multiple axis to mirror 
Is this plugin really FREE?
How to download and install MirrorMe from Astute Graphics
Step 2: Locate your download file. For PC it should be in your downloads folder. Double click to install.
Step 3: Once Astute Manger installs you should be able to click " Don't have an account?". Click it and fill our the form to create a free account.
***NOTE*** If the window goes missing don't worry, Astute Manager runs in the background and you can find it by click the arrow on the start menu. 
Step 4: Fill out the registration form and select "Register".
Step 5: You will end up back at the login screen. Enter your email and password you used when you registered.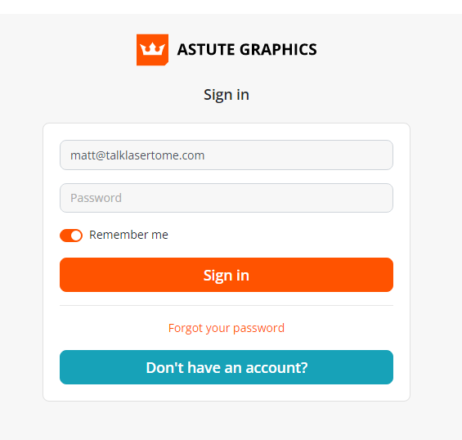 Step 6: Accept the terms and conditions.  
Step 7: You will get a series of messages promoting their subscription plan. Just click past these and head to the home screen.
Step 8: Click Install on the MirrorMe plugin. You do not have to install any of the other plugins for MirrorMe to work.
Step 9: Open Adobe Illustrator and find your new plugin!
That's it! If you have any questions please leave a comment below. I hope you enjoyed this guide. Please share this article with your friends! It helps us out a bunch!
Matt-
Join our Adobe Illustrator Facebook group for more tips, tricks, and help for laser designers!